This man knows no fear! Nik Wallenda managed to walk over the Grand Canyon on a 2-inch steel cable. The Sunday was a great day for self-named "King of the high wire", when he managed to fulfill his dream of walking over the Grand Canyon with no protection. The walk was 1.400 feet long and it took exactly 22 minutes and 54 seconds. All the time during the walk he could be heard praying and repeating "Thank you, Jesus."
Except being a great achievement from anyone´s point of view it was a great personal accomplishment for Nik. It is because while his grandfather tried to walk over the high wire in Puerto Rico, he slipped, fell and died.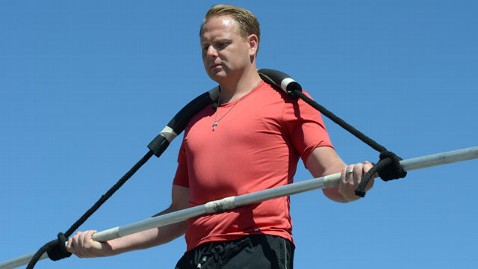 The "Grand Canyon" walk was broadcasted and watched live in more than 217 countries. Viewers were able to see the walk from Nik´s point of view through the camera placed on his body.
When reaching the other side he kissed the ground and said that the walk was unbelievable. He said that his arms ache, and even though he had to stop twice it was all worth it. He described the view as "breathtaking".
When asked where he gets the strength and inspiration, he talks about his Christian faith. It is something that gives him peace and the topic he addresses in his new book called "Balance"
For his next stunt, he is planning to walk between new York´s Chrysler Building and Empire State Building. Let´s hope he manages to fulfill his dream safely.