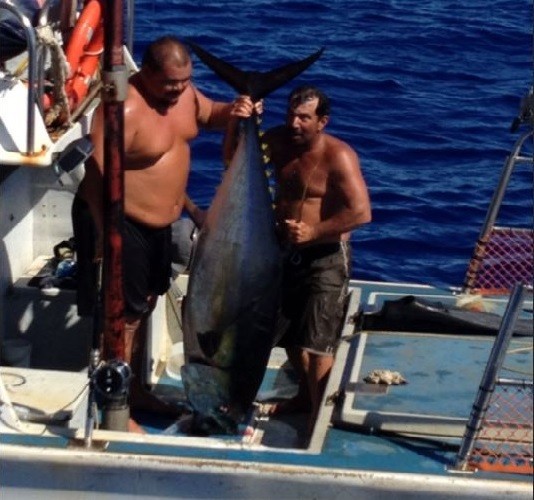 In the other news, guess what happened to the fisherman who almost died while trying to procure a giant tuna? This is the story of a 54 year old Anthony Wichman, fishing about 16 kilometers southwest of Port Allen on the island of Kauai on Friday morning when he thought he had his luck as he caught an Ahi tuna, a 230-lb fish only to capsize his 14-foot boat. Talk about toppled boats, the 14-foot vessel capsized, which of course is not designed for self-righting, when he tried to land the fish. Antony was so helpless that he had to make a call to his wife on her cell phone to be saved from the demon.
What followed was a distress call from Anthony's wife to the US Coast Guard who dispatched a helicopter to rescue the bait viz. Antony from drowning.
Friends of Wichman arrived on another boat to right the tumbled boat. They towed his boat to the shore…
What's the good news?
The tuna came along with them.
As George W. Bush has once said: 'I know the human being and fish can coexist peacefully,' this incident had again proved him wrong… almost!