Cool iPhone apps are one of the major reasons behind the success of Apple's  iPhone. These apps offer many useful applications to the users. However, there are some apps that are really funny and bizarre. They will make you think why these apps really exist. Here, we will go through some of them.
1) Honey It's me!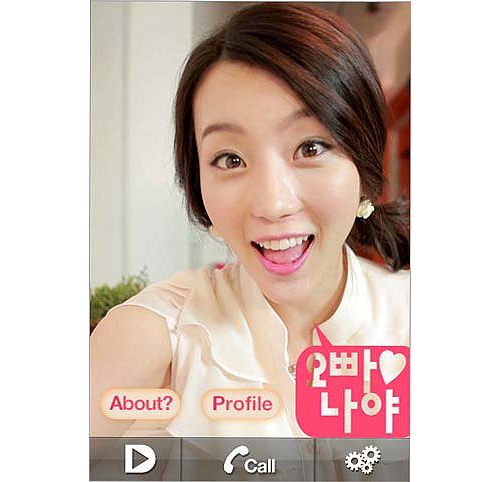 If you are a fan of US sitcom The Big Bang Theory then you can relate with this app. You must have seen Rajesh Koothrappali spending romantic time with a virtual girlfriend on his Smartphone. This is one among the cool iPhone apps that offers a virtual girlfriend for losers who failed to score girls. It is better suited for loners as the virtual girlfriend will give them four video calls every day. Guys can understand that video calls are much better than voice calls. However, the virtual girlfriend is Korean speaking.
2) Hello Cow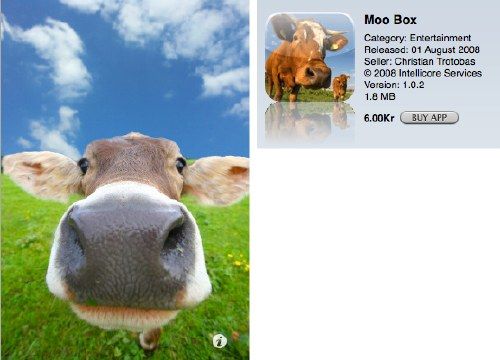 I really don't understand why a developer would create an app like this;  it seems strange and pointless. When you open this app, a sad looking cow will welcome you. Its eyes would stare directly at you which will make you feel creepy. It will look freaky and weird as well. The only thing you can do in this app is to poke the cow and in response, it will moo, a moo that will just make the app more bizarre. It is one of the cool iPhone apps designed for people who are insanely obsessed with cows. It seems like this app directly comes from the planet moo where cows are the app developers.
3) iVoodoo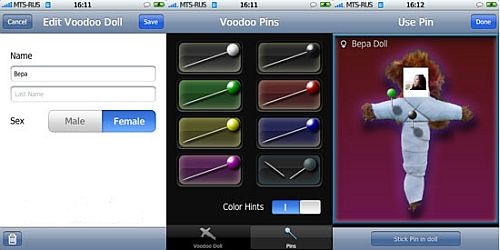 Nowadays, iPhone apps are getting crazier and bizarre. There are already a lot of weird stories about voodoo dolls and black magic. Now developers have introduced voodoo dolls for iPhone. This is one among the cool iPhone apps that allows people to choose a photo of their enemy and place it on the head of the voodoo doll. Then, poke the pins in the voodoo dolls and inflict as much virtual pain as you want. If you are voodoo believer then it is an interesting app for you. However, thankfully, it doesn't work, otherwise the security forces will start using this app.
4) Hang Time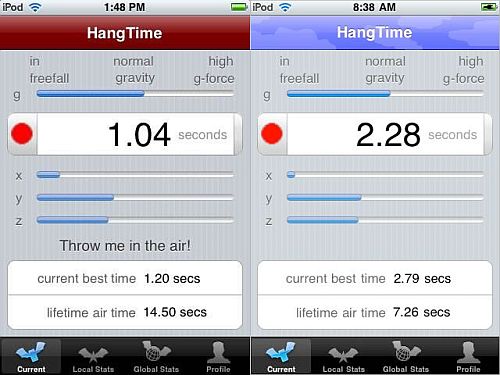 This is one among the bizarre yet cool iPhone apps. To use this app, you need to have a strong heart. According to the developers, it is a fun app for all. It will record the time after you throw your Smartphone in the air. I guess the users should start praying after throwing it. I think this app is made for stupid people or the folks with a lot of money to waste.
5) iFart – cool iPhone apps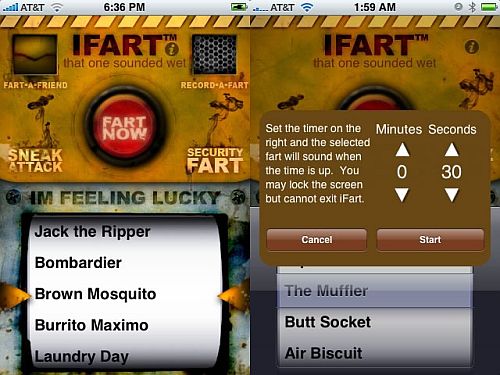 Farting is a funny as well as embarrassing phenomenon. It is a common thing that the friends make farting jokes. Developers thought why not turn your Smartphone into a fart box. This app is perfect for pranksters. This is one among the cool iPhone apps that offers different variations of farting sounds. It is sometime funny to play with it. Just put it near your friend and unleashed the fart mania. It will leave your friend red for sure.
These are some iPhone apps that offer bizarre functions. However, some users find these apps really entertaining and funny. At least, people can have a good laugh by using these apps. It is fact that bizarre apps get more attention than simple apps these days.